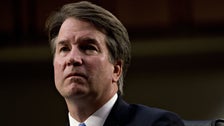 One aide said it is "100 percent true" that this is why, last week, committee chairman Chuck Grassley (R-Iowa) unexpectedly scheduled Kavanaugh's follow-up hearing for Monday instead of Thursday (it got pushed back to Thursday anyway). Whether Grassley knew of the coming allegations or senior staff knew and pressed him to expedite the session is unclear.  
The second aide couldn't directly link GOP staffers' knowledge of the coming allegations to Grassley's decision to expedite the hearing but said it was "widely known" among top aides that The New Yorker was about to report new allegations. GOP staffers were "factoring that into their strategic thinking about how to move forward," the aide said.
Both Democratic aides requested anonymity in order to speak freely.
Republican senators on the committee, including Grassley, insist they didn't know about The New Yorker story on Deborah Ramirez's allegations until it broke on Sunday. That means senior GOP staffers either knew about the coming allegations and didn't tell GOP senators, or they did communicate it to senators and someone isn't telling the truth.
A Grassley spokeswoman did not respond to a request for comment on whether he tried to expedite Kavanaugh's hearing schedule to avoid addressing more sexual misconduct allegations.
The New Yorker piece touches on the fact that Republican staffers knew about the allegations last week. It notes that some "expressed concern" about the effect they could have on Kavanaugh's nomination ― and that, soon after, GOP senators made a new push to speed up Kavanaugh's vote.
Ramirez, who went to Yale University with Kavanaugh, alleges that he waved his penis in her face against her will. Her allegations come after Palo Alto University professor Christine Blasey Ford alleged that Kavanaugh sexually assaulted her in high school, pinning her down on a bed and covering her mouth when she tried to scream. Kavanaugh has denied all allegations.
Sen. Lindsey Graham (R-S.C.), a member of the Judiciary Committee, tweeted Wednesday that it was "imperative" to hurry up and vote on Kavanaugh. 
Asked Monday if this was because Graham knew The New Yorker story was coming, spokesman Kevin Bishop said no and that Graham learned about the new allegations on Sunday along with everyone else.
"No," said Bishop. "You need better sources."
Sen. Mike Lee (R-Utah), also a member of the Judiciary Committee, didn't know about the coming allegations either, according to his office.
"No one on our staff had any hint of the Ramirez story before the Drudge link," said his spokesman, Conn Carroll. Drudge Report sent an alert Sunday that the New Yorker story was about to be published.