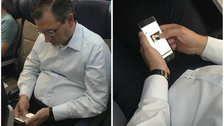 Sen. Ted Cruz (R-Texas) was snapped on a flight from Texas to Washington looking at a webpage with what appears to be a photo of Rep. Beto O'Rourke, the Democrat trying to unseat him in November's midterm election.
Cruz was photographed aboard the flight early Monday checking out a picture of O'Rourke on his phone, according to Politico Playbook. Cruz, once predicted to be a re-election shoo-in, is now locked in a neck-and-neck battle with the likeable Democrat.
The snapshots made waves on social media, with many making snarky remarks:
Representatives for Cruz did not immediately respond to HuffPost's request for comment.
The pictures add to a bad week for Cruz, a member of the Senate Judiciary Committee considering the Supreme Court nomination of Brett Kavanaugh, who has been accused by two women of sexual assault. 
On Monday night, Cruz was heckled out of a Washington restaurant by activists who chanted, "We believe survivors!" One woman asked Cruz directly whether he believes Kavanaugh's accusers and his stance on the nomination.
Cruz simply said: "God bless you, ma'am." 
Then, Tuesday's New York Times published a piece by conservative columnist Bret Stephens titled "Supreme Confusion." It unflatteringly refers to Cruz as a "serpent covered in Vaseline," "the spiritual love child of the 1980s televangelist Jimmy Swaggart and Jack Nicholson's character in 'The Shining,'" and "the type of man who would sell his family into slavery if that's what it took to get elected."