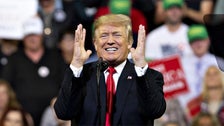 President Donald Trump took a moment during a rally in Iowa on Tuesday night to give a shout-out to his "great friends" at Fox News. 
Trump, in Iowa, just listed most of the Fox News anchor line-up (Hannity, Judge Jeanine, Laura Ingraham, Tucker Carlson, Steve Doocy, etc.)

"We've got a lot of good people," he says. pic.twitter.com/uS9oYkZqSW

— Peter Alexander (@PeterAlexander) October 9, 2018
Hosts at the network, such as Jeanine Pirro, Laura Ingraham and Tucker Carlson, have never shied away from praising the president, who, in turn, has a well-documented history of expressing his admiration for the cable news network.
.@FoxNews is MUCH more important in the United States than CNN, but outside of the U.S., CNN International is still a major source of (Fake) news, and they represent our Nation to the WORLD very poorly. The outside world does not see the truth from them!

— Donald J. Trump (@realDonaldTrump) November 25, 2017
Trump began by mentioning Lou Dobbs after referring to Democrats as "the dims." 
"The dims. Who says that? Lou Dobbs, the great Lou Dobbs, he says that, right? Sean Hannity says that, 'the dims.' Sean Hannity. Judge Jeanine [Pirro] says that, doesn't she? Laura [Ingraham]. Laura, how good has Laura been, right? We got a lot of good people. Do we like Tucker [Carlson]? I like Tucker. He says that. How about Steve Doocy, how about Ainsley [Earhardt], Brian [Kilmeade]? We got a lot of great friends."
Trump, in Iowa, just listed most of the Fox News anchor line-up (Hannity, Judge Jeanine, Laura Ingraham, Tucker Carlson, Steve Doocy, etc.)

"We've got a lot of good people," he says. pic.twitter.com/uS9oYkZqSW

— Peter Alexander (@PeterAlexander) October 9, 2018
Trump calls Democrats "The Dims" in Iowa, saying that's what Fox News personalities call the Democratic Party, listing all of them: "Do you like Tucker, I like Tucker."

— Zeke Miller (@ZekeJMiller) October 9, 2018