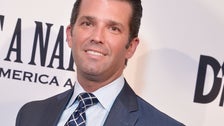 Donald Trump Jr. attempted to use Dr. Christine Blasey Ford's testimony against her on Thursday, but Twitter users weren't buying what he was selling.
Blasey testified on Thursday morning that Supreme Court nominee Brett Kavanaugh sexually assaulted her when they both were in high school. During Blasey's testimony for the Senate Judiciary Committee, Rachel Mitchell, the prosecutor representing the all-male GOP membership of the committee, asked Ford about her fear of flying and its severity.
Mitchell then pointed out that Blasey had traveled on airplanes to visit family, go on vacation and appear at the committee hearing. Many viewed the questioning as designed to cast doubt on Ford's claim that her alleged sexual assault at the hands of Kavanaugh has "drastically altered" her life.
Trump Jr. used the exchange as an opportunity to post a tweet pushing that narrative. (The better to score those cheap political points, right?)
Twitter users immediately pounced.
Luckily, at least one psychology professor chimed in and offered relevant info to the president's son that he will likely ignore.